2021 was a varied and productive year for the European Allergy and Asthma Youth Parliament, who built on the launch of their EU policy recommendations to advocate for the needs of young patients living with allergy and asthma at the European level.
Allergy and Asthma patient advocacy skills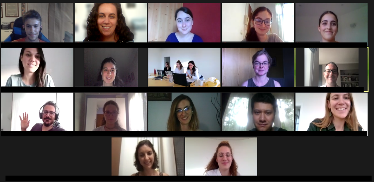 In 2021, the Youth Parliament attended two capacity building trainings online to strengthen their skills in patient advocacy and public speaking, and to deepen their knowledge and understanding of the EU institutions. Participants learnt how to communicate and prepare for meeting with European policymakers by using their patient voice to ask for concrete demands.
Youth Parliament's website and recruitment video
The European Allergy and Asthma Youth Parliament launched its new website to showcase the activities of the Youth Parliament and invite new members to take part. Completed with a new visual identity, the website contains updates from the Youth Parliament and their young patient perspective insights into healthcare and European policy. You can visit the website by clicking here.
The Youth Parliament also launched a recruitment video to present their work and why other young patients and healthcare professionals should get involved. The video will be used as part of a recruitment campaign in 2022 to invite more young patient advocates to join the Youth Parliament and build their confidence and skills in European advocacy. You can watch the video here.